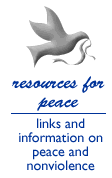 featured service
Resources for Peace Featured Service
With each update of the Resources for Peace page, we will now feature a group or organization which provides useful services to the peace and social justice community. Groups featured on this page are not themselves activists; they help other organizations to make their activism more effective by providing expertise and assistance. Unless otherwise indicated, groups featured on this page work on a fee for service basis, but maintain an affordable fee structure so that peace and social justice groups can make use of their help.
Current Featured Resource:

Housman's World Peace Database

"If you want to be in touch with other organisations around the world
who are concerned with related issues, you can find them on the World
Peace Database.
Resources for Peace • a service of givewings.com
141 W. Harvey St. • Philadelphia, PA 19144
215-849-4941 • rasphila@givewings.com